I have a task for you: Do you know the typical symptoms of a heart attack? Surely they immediately come to mind: pain, a feeling of tightness, reaching for the chest and the radiation of pain into the left arm. Most of us can list off the top of our heads how to recognise a heart attack. And that's a good thing, because quick action by bystanders is paramount to the survival of a heart attack patient. If you observe a heart attack, you should immediately inform the emergency doctor and provide first aid.
Now what emergency do you think could be triggered by the following symptoms: Shortness of breath, nausea, pain in the upper abdomen, pain in the neck and throat and possibly fainting? Exactly. These are the symptoms of a heart attack in a woman. Would you have known this? If not, don't blame yourself. Google itself returns male symptoms by default when you search for "symptoms heart attack". No wonder, then, that heart attacks in women are recognised significantly less often and treated accordingly.
The search giant is not only gender-biased in the area of medical conditions: the search for professions is also not gender-neutral. While the german search for "Anwalt" (lawyer) leads to a Google Maps insertion above the fold, i.e. in the visible, well-converting area, the search for "Anwältin" (female version of lawyer) first of all provides the dictionary integration, which explains that "Anwältin" is the female form of "Anwalt". The Maps insertion with direct links to local female providers only appears after scrolling and is thus less present than in the male case.
As a (german) female lawyer, I therefore have no choice with regard to SEO but to introduce myself as a "Anwalt" on my website. This is the only way I can manage to pick up the strong keywords. If you are interested in the topic in more depth, you should pay attention to the corresponding postings and publications by Malte Landwehr. Malte is Head of SEO at Idealo and has been dealing with Google's gender bias for years. You can read a nice summary of the topic in the interview with him at Lexoffice.
So what does all this have to do with marketing?
A Nielsen study from 2016 shows that 89% of women worldwide say they are responsible for the main household tasks such as shopping and cooking. This also means that they make almost 90% of the purchasing decisions for all necessary fast moving consumer goods. And even though women bear the main burden in the household, classic role models have long since dissolved. According to the Federal Statistical Office, almost 50% of the working population in Germany is female, and the number of female university graduates, at 51%, is even higher than that of male academics. As Ernst & Young predict in a paper, women will make 75% of global purchasing decisions in 2028. And this does not only concern household goods and food. Economist Sylvia Ann Hewlett sees it similarly:
Are women's share of purchasing decisions and their ever-increasing purchasing power reflected in advertising? A look at the publications of the German Advertising Council suggests that this is not the case. Sexism is still the main reason for complaints received, especially by small and medium-sized enterprises. "Sex sells" has burnt itself into people's minds and time and again leads to irritating blunders in the choice of advertising message and motif.
However, the number of complaints received by the Advertising Council due to sexist advertising motifs is declining. Thus, there seems to be an increasing awareness among advertisers with regard to gender-discriminatory advertising. However, the question arises: Is an advertisement automatically successful in terms of women's purchasing power if it is not sexist? Or rather, should we clearly identify and target women, even in areas where we may not have identified them as key buyers? For example, a 2018 study by the University of Sussex and Aarhus University in Denmark suggests that well-educated women represent an untapped but potentially lucrative market for electric car sales, as they are more environmentally and fuel-conscious than men. Electric car advertising targeted at women – an exciting consideration, don't you think?
Certainly, each industry has its own figures and dedicated target groups. However, it is always worthwhile to review one's own marketing activities with regard to gender orientation and to ask oneself whether one is paying tribute to the large and growing female purchasing power. At the very least, one should not rely on Google search volumes when defining one's own target groups. The fact that "Anwalt" is searched 49,500 times per month, but "Anwältin" only 3,600 times, allows conclusions to be drawn about our search behaviour, but not about the size of the marketing target group. Even if women are underrepresented in certain databases – as a target group they are present and have purchasing power and want to be addressed accordingly by advertising messages.
Diversity marketing – where do we stand?
Three years ago, the image campaign of Deutsche Bahn and the agency responsible, Ogilvy, became a political issue after Boris Palmer asked in a Facebook post which society was to be depicted here: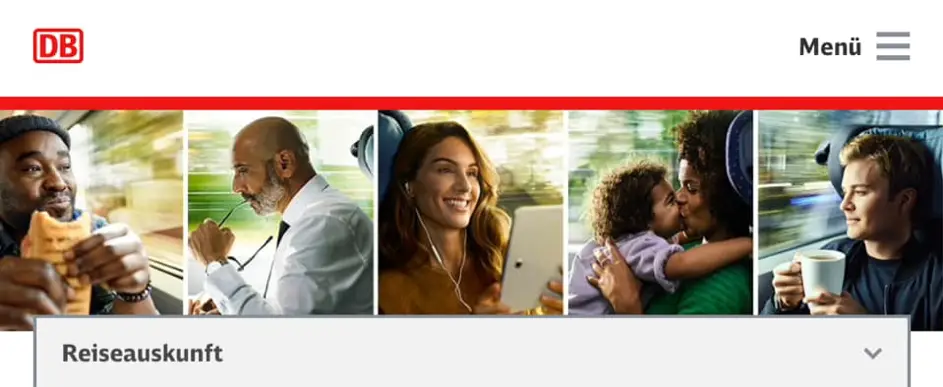 Apparently, in Palmer's opinion, the Bahn showed too few "typical Germans" in its header graphic. In fact, the graphic shows the German TV chef Nelson Müller, who came to Germany as a toddler, the Cologne-born presenter Nazan Eckes and the German-Finnish racing driver Nico Rosberg. Palmer's post on Facebook provoked almost 4,500 comments, many of them critical, but also over 1,600 likes. Is this fuss appropriate if we look at our society purely statistically?
In 2021, 27.2% of the population in Germany had a migration background, i.e. German citizenship was not acquired by birth for the person in question or for at least one parent. In addition, BIPOC are often wrongly perceived as foreigners even though they have German citizenship. German society is diverse – does our marketing show that? And: do clients want to see diversity in marketing?
A short study by YouGov shows that serious diversity marketing goes down very well, especially with a younger target group of GenZ and GenY. Diversity is an important topic especially among younger people. This target group wants to see that companies share their own values and communicate accordingly. However, the study also shows very clearly that social washing or green washing has the opposite effect. If a company presents itself as more diverse than it actually is, the advertising effect goes in the opposite direction. The core message is therefore: as a company, communicate your values clearly. And act accordingly.
Accessibility – a nice add-on?
Did you know that 9.3% of the German population is severely disabled? That's almost one in ten. Does that surprise you? Possibly yes, because people with disabilities are still significantly less visible than would correspond to their share of the total population. This is also due to the fact that many areas are simply not accessible for disabled people. Maybe that is why we meet people in wheelchairs less often when shopping, because most shops are only accessible via one or two steps and a narrow entrance door, and not because there are de facto so few wheelchair users?
Transfer these figures to your online shop. Is your target group really predominantly under 60? Or could it perhaps be that your website is no longer usable for people over a certain age? For example, almost half of the European population is affected by age-related long-sightedness. From the age of 40, the vision of affected people already deteriorates, making it difficult for them to recognise things or text in the vicinity. So what does this mean for a website that is not accessible?
It is possible that the text of your offer is not readable at all on a smartphone for people over 40 (that is over 57% of the German population). With browser add-ons like NoCoffee, you can have your website displayed from the perspective of people with visual impairments. It is quite possible that you will see your sales figures with different eyes afterwards!
As Aktion Mensch points out, the group of severely disabled people in particular is a far underestimated user group on the internet, as they use online offers more intensively than average. For your eCommerce, this means: around every 10th visitor depends on your shop being barrier-free, otherwise he or she cannot use it properly.
In view of these figures, an accessible website should be a no-brainer. Who would want to miss out on a potential 10% turnover? However, the reality is quite different. The annual WebAIM Million Report shows once again: 98% of the websites examined are not accessible. The data basis is the one million most referenced websites in the world according to Majestic, of which only 2% have no deficiencies with regard to accessibility for people with disabilities. The most common problem on the net is the lack of contrast between text and background: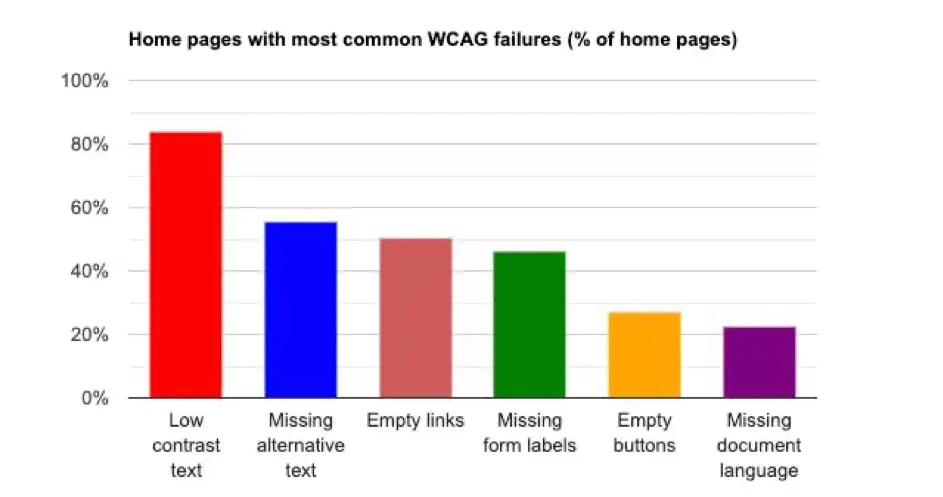 Source: https://webaim.org/projects/million/#conclusion
This deficiency can be checked very conveniently with the free online tool contrast-ratio.com. It is advisable to also check your own CI guideline for sufficient contrast in order to exclude this deficiency from the outset.
The error "missing alt text for images" is the second most frequent accessibility error. In this case, the aim of accessibility also plays into the hands of SEO. Meaningful alt texts in the alt attribute of images help people with disabilities, but they also have a positive influence on the ranking of the image and thus possibly of the page on which the image is embedded.
In general, accessibility and SEO often go hand in hand. This is self-explanatory if you consider that Google wants to provide the best possible result for every user. Of course, Google does not want to exclude the 10% of users who depend on an accessible website. Even though Google does not officially list accessibility as a ranking factor, a look at the following, most frequently occurring accessibility deficiencies makes the connection between SEO and accessibility clear: missing anchor texts and empty buttons are also a no-go for SEO, a missing document language can be a stumbling block for SEO. So we do well to pay attention to accessibility in SEO. Ruth Everett provides a nice overview of the topic at Search Engine Land.
Conclusion: It pays to look!
In summary, it is worthwhile to critically examine one's own online and offline marketing activities. Am I addressing my target group correctly? And even more important: do I really know who my target group is? Or do I, for example, only have poor sales figures in a certain segment because I unconsciously exclude this user panel? This can happen through my advertising motives or through the lack of usability of my website.
A first step in online marketing can therefore be an accessibility audit. This can be done quickly and free of charge with tools such as the WAVE browser extension. As mentioned earlier, many accessibility improvements also help SEO efforts, so efforts to make a website accessible should be a standard part of online marketing.
Regardless of sales figures and turnover, our aim should not be to exclude user groups, but to provide the best possible offer for every user. We can prevent a certain operational blindness by means of various user surveys.
And it is even more sustainable to have a diverse team, as countless studies have shown. There are tools like NoCoffee for "blind spots" with regard to visual weaknesses – for blind spots in corporate management, it is worthwhile to look and question.
Foto: Amy Elting